Spotify or Apple Music, that is the question
"Which is better: Spotify or Apple Music? Should I keep Apple Music Spotify or use Spotify instead? Almost everyone I know uses Spotify over Apple Music, I never really found out why."
Music streaming is by the most popular way for us to consume music. According to global music industry representative IFPI, streaming currently accounts for 43 per cent of digital music revenues. Where once we had to import and rip CDs to our computers, or download songs, we now access to the world's online streaming music catalogue through our smartphones.
Online music subscription services now give us access to thousands of tracks and it's a very competitive space. Apple Music and Spotify, the two giants of music streaming each offer compelling experiences, but which paid music streaming service deserves your $10 a month?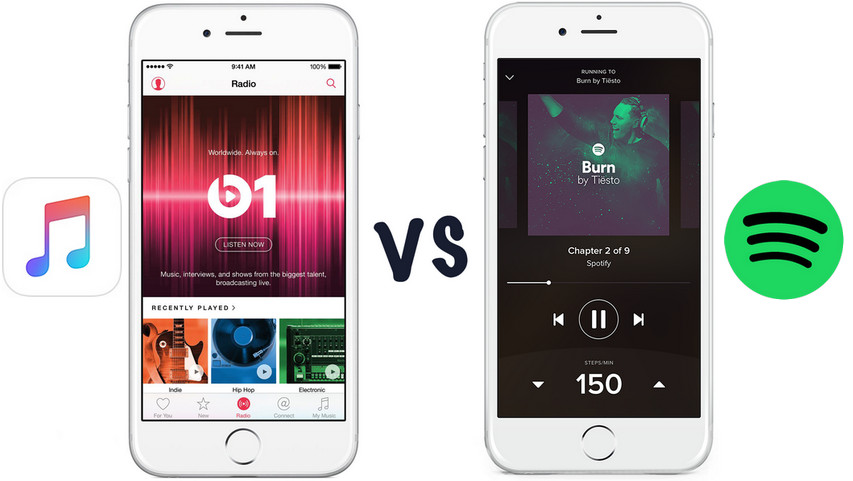 During Apple's WWDC on June, 2017, Tim Cook gleefully boasted that Apple Music now has more than 27 million subscribers. While that's a respectable increase from the 20 million subscribers Apple's streaming service had this past December, it seems that Apple still can't do anything to close the subscriber gap it has with Spotify. While at the same period, Spotify's Brian Benedik announced that Spotify now has more than 140 million monthly active users.
But Spotify arguably faces its biggest threat yet from Apple Music. Apple Music may have arrived late to the party, but it did so with a huge fanfare. While it may currently have less than half the number of paying subscribers as Spotify (17m), the fact it's skyrocketed to that in just under two years is staggering. Spotify racked up $3.3 billion in revenue last year with profits falling in the $500 million range.
So Spotify or Apple Music? Which currently leads the space in terms of paid subscribers?
Apple Music VS Spotify
Below we highlight the features of each of the services. Apple Music VS Spotify:
Feature
Apple Music
Spotify
Monthly fee
$9.99, £9.99, AU$11.99
$9.99, £9.99, AU$11.99
Free plan?
No.
Yes, with ads
Free trial period
Three months
30 days
Advertised music library size
30 million
More than 30 million
Family sharing?
Yes, $14.99/month for up to 6 family members.
Yes, $14.99/month for up to 6 family members.
Student Plan?
Yes, $4.99/month.
Yes, 50% discount.
Offline listening?
Yes, with paid subscription
Yes, with paid subscription
App availability
iTunes on MacOS
iTunes on Windows
Music app on iOS
Apple Music app on Android
Spotify for MacOS
Spotify for Windows
Spotify for iOS
Spotify for Android
Web interface
Countries availability
115 countries
60 countries
Apple Music VS Spotify: Music catalog
It seems that Apple Music and Spotify are pretty evenly matched here, both boasting 30 million songs. But we're yet to see what exactly those 30 million songs from Apple will and more significantly won't include. However, Apple Music is claiming it will get more exclusive tracks and music from unsigned artists who can publish their music through the service, neither of which were available at launch. Both services have plenty of music to satisfy you and, though Spotify does a pretty good job at this, there's a chance that Apple Music will have more content from emerging artists as it picks up steam.
Spotify have had to deal with big name artists such as Radiohead and Taylor Swift pulling their music from its service, so it would be a significant gain for Apple if their music is available to stream on theirs. In a big coup for Apple, after a public display of resistance, Taylor Swift's catalogue is available on Apple Music -- but you still won't find her music on Spotify. The Beatles, whose music doesn't appear on Spotify, will also not be available on Apple Music when it launches, but their willingness to open up their catalogue to iTunes back in 2010 makes us think they will push for a big launch of their own when they believe the time is right. This will be a huge draw for Apple Music if they can make it happen.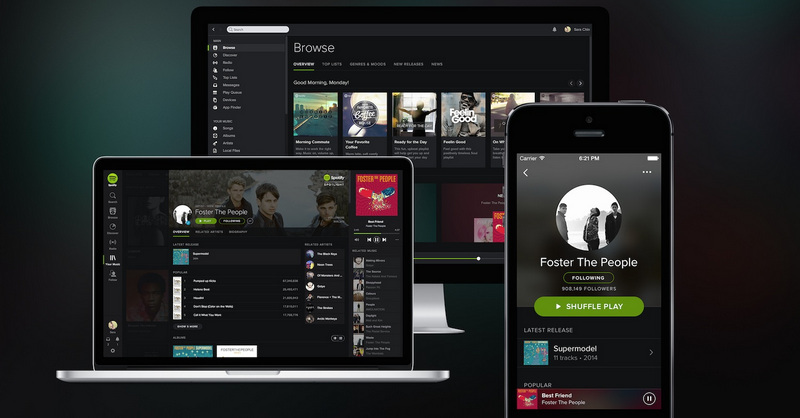 Spotify and Apple Music let you supplement their streaming catalogs with your own tracks. With Spotify, you can add music files from your computer, and add them to playlists to listen alongside streaming tracks. With Apple Music, all of the music you've put into iTunes over the years, either by ripping it from a CD or buying it from the store, is added automatically.
However, Spotify is our favourite when it comes to discovering new music. The number of playlists on offer, mostly contributed by users and artists themselves, is staggering. Plus you get the useful Discover Weekly playlist, which is auto-compiled based on your past plays. Whenever a new album is released, Spotify tends to pick it up ahead of the other services.
Spotify or Apple Music on Music catalog? Apple Music has more songs. Spotify seems to get new albums quicker.
Apple Music VS Spotify: Radio
Both Spotify and Apple Music have radio features, but they work in very different ways.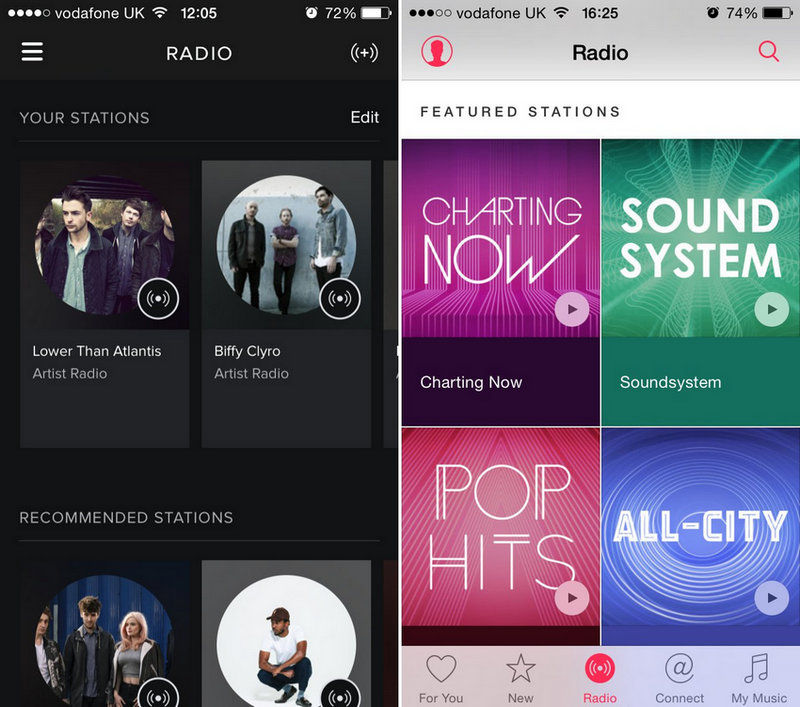 Apple Music has a live, 24/7 global radio station, streaming from London, New York and Los Angeles called Beats 1, which was the most exciting part of the mostly tedious WWDC launch event. Apple's hired DJs to run the stations, including Zane Lowe, Hot 97's Ebro Darden, Rinse FM's Julie Adenuga, which promise to not only play great music, but also discuss what's hot in music and music culture and offer exclusive interviews. What's more, Big name artists such as Drake, Pharrell, Elton John and Dr. Dre have been announced as to be hosting guest shows for Apple Music's Beats 1 radio station. They are absolutely great at what they do.
Also available are Apple Music Radio stations, which offer music based on genre, created by so-called music experts. With these, you can skip songs to fine-tune the station.
Spotify does not have live radio. Instead, you can create stations based on your favorite artists, genres, songs, playlists or albums, and the service will find songs to match. These radio stations are essentially on-demand, endless playlists that you can play anytime. You can upvote and downvote songs to help Spotify better understand what you want to hear. Spotify has an extensive selection of curated Playlists (which includes ourselves), but Apple Music also plan to do this, with rumours of roping in big names like Drake to contribute.
Spotify or Apple Music on Radio? Apple Music.
Apple Music VS Spotify: Music discovery
Nearly all streaming services try to understand your music preferences to serve up recommendations, and Spotify and Apple Music are no different. However, each takes a slightly different approach.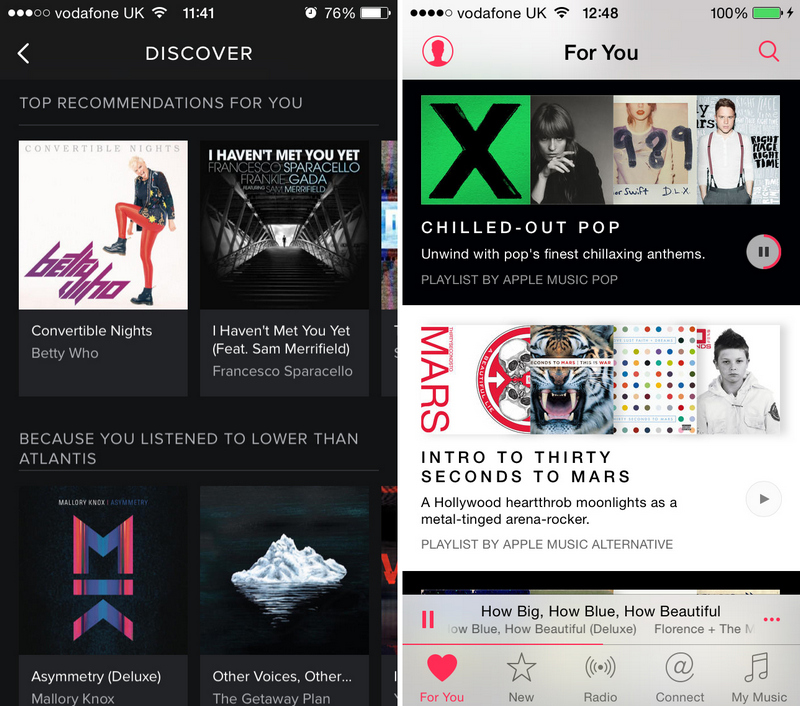 Apple Music uses the Beats Music recommendation engine to learn what you like and continually find new suggestions. You can pick your favorite artists and genres when you first fire up the app and then as you listen, the "For You" tab will fill up with constantly evolving recommendations. Apple boasts that it doesn't just use an algorithm to create these recommendations, it also uses real humans to curate playlists and pick out music.
After a few days of using the service, the "For You" tab delivered as promised, with playlists and album recommendations based on my music taste.
It simply took the musicians saved to My Music and redundantly suggested their albums and playlists in which they're featured. The paltry recommendations lack imagination and feed you what you already like, instead of offering you something fresh, like Spotify does with its Discovery feature.
Spotify has a dedicated Discover section which offers playlists of varying artists that suit your tastes in music. It also has a Browse section with a huge variation of styles from Blues to Jazz to Rock to K Pop, there are even options to suit moods, like party mode. Spotify's recommendations are less prominent, but still part of the app. Buried in the Browse tab is the Discover section, which tailors recommendations based on your listening history. They aren't front and center like they are with Apple Music, but if you're genuinely interested in finding new music from artists you're unfamiliar with, it's much more in tune with lesser known, underground and indie artists.
Spotify or Apple Music on Music discovery? Spotify.
Apple Music VS Spotify: Sound quality
Sound quality in the digital age is measured in bit-rates. The higher the bit-rate, the better the sound quality.
Apple Music streams music at 256kbps. Spotify streams music at 320kbps for premium members, and at 160kbps for free users. However some users said that the 256kbps AAC files on Apple Music's iCloud library sound more open and involving than Spotify's 320kbps MP3 streams, and benefit from extra space, subtlety and punch too.
Ultimately though, we're still waiting for Spotify and Apple Music to adopt a lossless sound quality option, such as Tidal's. This seems the next logical barrier to push for both services.
Spotify or Apple Music on Music discovery? Spotify.
Apple Music VS Spotify: Subscription fees
Apple Music costs the industry-standard $10 per month, as does Spotify. Considering Apple grants every prospective subscriber three months of Apple Music for free, the service may be sweeping away more of Spotify's user base than CEO Daniel Ek would like to acknowledge. However — and this is key — Apple does not have a free, ad-based tier like Spotify, which is a big reason the Swedish company was able to corral so many users in the first place. The majority of Spotify's users listen for free, and that's better than any three month trial Apple could offer.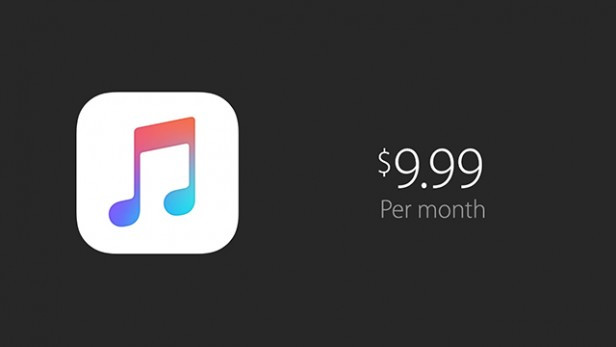 Spotify or Apple Music on Subscription fees? Spotify.
Apple Music VS Spotify: User voice
- I had Apple Music for a while, but switched to Spotify because they offered better playlists and their weekly discovery playlist was much better than Apple's. I could also follow my friends' playlists on Spotify as well. I do miss the integration of the music app into the iPhone such as able to switch songs with Siri, but I would still recommend Spotify.
- Spotify's daily mix is badass.
- My personal experience is the playlists are better on Spotify, but Apple Music has a much better selection....
- Spotify FTW. Seriously. I'm an all out Apple guy but there are somethings that Apple just isn't doing better. If you like discovering music, Spotify is definitely the way to go.
- Spotify is sooooo much better and syncs with Alexa and anything else.
- I pay $5 per month for Apple Music because of being a student. That's enough to keep me. Also being a hip hop head and waiting for midnight releases, its good to know I will get the album early.
- I've tried both and I came back to Apple Music because I like the feel of Apple Music better. Hard to describe but Apple Music feels more like browsing through a record store with enthusiastic owners whereas Spotify just feels like a data dump of a bunch of songs in playlists.
- I could never really put my finger on why I preferred Apple Music over Spotify until I read this comment and I think you've nailed it for me. The record store analogy is pretty spot-on. It's hard to describe but it feels like Apple Music just has a kind of passion for music that just feels to be lacking in Spotify. Spotify just feels kind of "clinical" or something, I don't know.
- The Spotify interface and useability is what keeps me using Spotify. I tried the Apple Music free trial after being a long time Spotify user. I stuck with it for a couple of weeks but quickly went back to Spotify. I also use SpotifyConnect.
- Apple Music all the way. I love having one library that combines the Apple Music catalogue along with the rare demos and bootlegs I get elsewhere. Until Spotify can merge sources like that, it's no contest. (Yes I'm aware you can wifi sync non-Spotify songs to your device but there is no cloud component).
So Spotify or Apple Music? It all depends on yourself.
Get Apple Music Free!!
Here is good good news for Apple music fans:
If you unsubscribe from Apple Music, you are no longer to play any streaming music you've added or downloaded to your library from the Apple Music catalog. If you would like to keep Apple Music songs still there after you cancel the Apple Music subscription, or if you would like to enjoy your apple music on non-apple devices, the Apple Music Converter would help you convert Apple Music to MP3 files on your computer. You can keep the apple music files forever.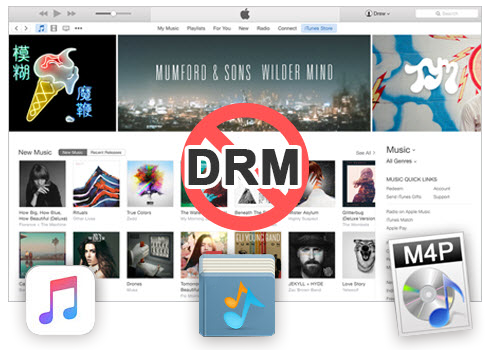 Easily remove DRM from iTunes M4P songs, M4P/M4B Audiobooks, Apple Music songs and Audible AA/AAX Audiobooks and output DRM-free MP3, AAC, AC3, AIFF, AU, FLAC, M4A, M4R, and MKA with 100% original quality.
Remove DRM from iTunes M4P songs, Apple Music and Audiobooks and output MP3, M4A, etc.
Extract DRM-free audio from iTunes video, movies and TV shows.
Convert iTunes DRM media files at up to 16X speed.
ID tags and metadata information preserved to MP3/M4A output.
AudioBooks converted to M4A will be marked by Chapters, too.

Security Verified,
5,942,222
people have downloaded it