Oh, DRM, how we love to hate you!
Digital rights management is a far-reaching term that refers to any scheme that controls access to copyrighted material using technological means. In essence, DRM removes usage control from the person in possession of digital content and puts it in the hands of a computer program. That is to say, when a program is designed to prevent you from copying or sharing a song, reading an ebook on another device, or playing movies on TV, you are being restricted by DRM. In other words, DRM creates a damaged good; it prevents you from doing what would be possible without it. This concentrates control over production and distribution of media, giving DRM peddlers the power to carry out massive digital book burnings and conduct large scale surveillance over people's media viewing habits.
Why Choose DRM Removal Software
We all would like to get all our iTunes Music, EBooks, movies and TV shows free from DRM. Fortunately, there are several ways to create local backups and rid our music and movie purchases of unwanted DRM. However, keep in mind removing said restrictions might violate the various Terms of Use we agree to when we purchase a digital product, even if we don't intend to share or otherwise distribute the content.
DRM Removal Software could help us:
1. Legally Remove DRM from iTunes Music and Apple Music.
2. Legally Remove DRM from iTunes Video Rentals and Purchases.
3. Play iTunes movies, TV shows, MVs anywhere we want.
4. Break the 24/48-hour limitation on iTunes rental movies.
5. Convert DRM-ed Audiobooks to MP3, AAC, M4A, etc.
6. Extract Audio form DRM Protected Videos.
Please note that: You are only allowed to remove DRM with any DRM Removal Software for personal use.
We would focus on several pieces of DRM removal software with the aim to help you find the best software to get all music, movies and TV shows free from DRM. All software tested and reviewed below can be used to remove DRM from audio and video files only.
Remove DRM from old iTunes Music with iTunes Plus
Now that DRM for music is largely a thing of the past, how can you cost-effectively free your music from Apple's Fair Play protection? In this tutorial, We'll provide an inexpensive workaround that makes stripping DRM easy by employing Apple's iTunes Plus service. iTunes Plus refers to songs and some music videos* in high-quality AAC format that don't have Digital Rights Management (DRM).
All songs now for sale in the iTunes Store are iTunes Plus. If you previously bought music with DRM from the iTunes Store, you might be able to download DRM-free versions of your songs with an iTunes Match subscription. The tracks must show as Matched or Purchased in the iCloud Status column in your iTunes library. The same album or song must also still be available in the iTunes Store.
Step 1 Open iTunes. If you're not already signed in, sign in with your Apple ID and password. Select Store > Turn On iTunes Match from the iTunes menubar.
Step 2 Click the My Music tab at the top of iTunes. Click the song or album you want to upgrade. Press the delete key on your keyboard. In the message that appears, click Move to Trash.
Step 3 Click the iTunes Store tab at the top of iTunes. Under Quick Links on the right-hand side of iTunes, click Purchased. Click Music in the upper-right corner of iTunes. Find the song or album you want to upgrade.
Step To download the new version, click the iCloud Download icon on the song or album.
Afterward, allow the tracks to download and enjoy your DRM-free music! To download iTunes Plus music videos, deselect "Download high-quality SD videos" in iTunes preferences. High-quality SD videos aren't compatible with all older generation iPods, and have DRM.
Remove DRM from Apple Music &amp iTunes Music with M4P Converter
M4P to MP3 Converter is all-in-one and perfect DRM removal software for Apple music, old iTunes songs, and drm protected Audiobooks. Convert DRM M4P, AAC, M4B, M4V, AA, AAX files to regular audio formats including MP3, AAC, M4A, AC3, MKA, M4R, FLAC, AIFF, AU and other comon formats.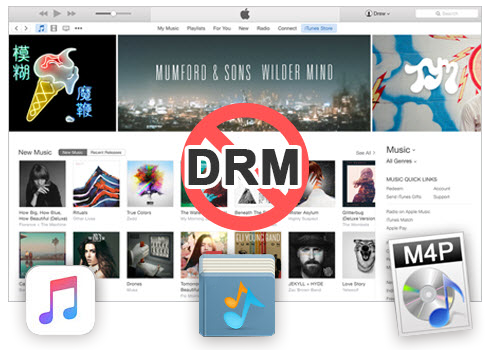 Easily remove DRM from iTunes M4P songs, M4P/M4B Audiobooks, Apple Music songs and Audible AA/AAX Audiobooks and output DRM-free MP3, AAC, AC3, AIFF, AU, FLAC, M4A, M4R, and MKA with 100% original quality.
Remove DRM from iTunes M4P songs, Apple Music and Audiobooks and output MP3, M4A, etc.
Extract DRM-free audio from iTunes video, movies and TV shows.
Convert iTunes DRM media files at up to 16X speed.
ID tags and metadata information preserved to MP3/M4A output.
AudioBooks converted to M4A will be marked by Chapters, too.

Security Verified,
5,942,222
people have downloaded it
This DRM removal software can not only remove DRM from iTunes music, but also convert DRM protected videos (M4V) and TV shows purchased or rent from iTunes to different audio files in MP3, AAC, M4A, AC3, M4R and more formats.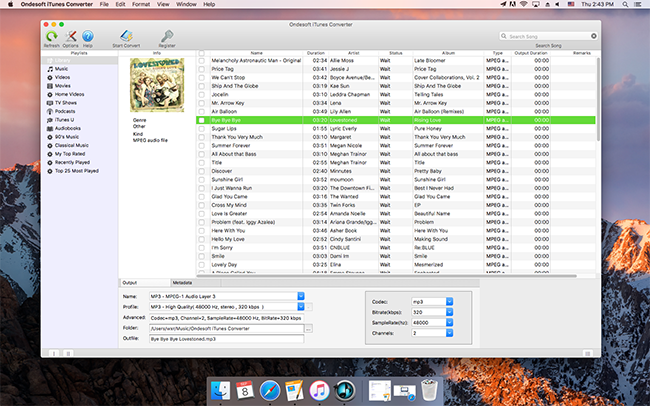 Remove DRM from iTunes Video Rentals and Purchases with iTunes M4V Converter
iTunes M4V Converter Mac is one of the best DRM removal software to remove DRM from iTunes M4V, which supports converting purchased movies, TV shows and music videos, iTunes Extras and iTunes Rentals. This DRM removal software would help you break the 24/48-hour limitation on iTunes rental movies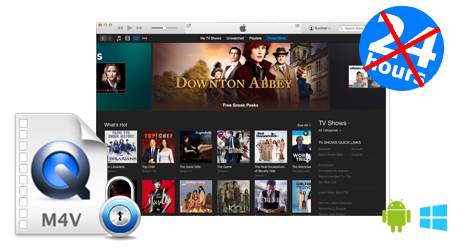 Legally remove DRM from both iTunes purchased M4V movies and iTunes rental M4V before their expiry date. Enjoy iTunes movies on non-apple device without iOS restriction and keep iTunes rentals forever.
Professional iTunes video DRM removal software.
Remove DRM from iTunes rented/purchased movies/TV shows.
Convert iTunes M4V video to MP4.
Preserve Dolby 5.1, AD, multilingual Audio Tracks, subtitles, CC.
Strip iTunes DRM at 30X speed.
Output 1080P HD with 100% original quality.

Security Verified,
5,942,222
people have downloaded it
Remove iTunes M4V DRM and get full control over your legally purchased iTunes movie items so that you can watch the iTunes videos on any device as you like. With a full range of preset profiles, you are able to easily convert iTunes M4V movies and TV shows to popular media players, smartphones, tablets, like iPhone 7/7Plus, iPhone 6S/6, Apple TV, iPad, iPod, Samsung Galaxy, HTC One, PS4, Xbox 360, Google Nexus, Sony Xperia, and much more.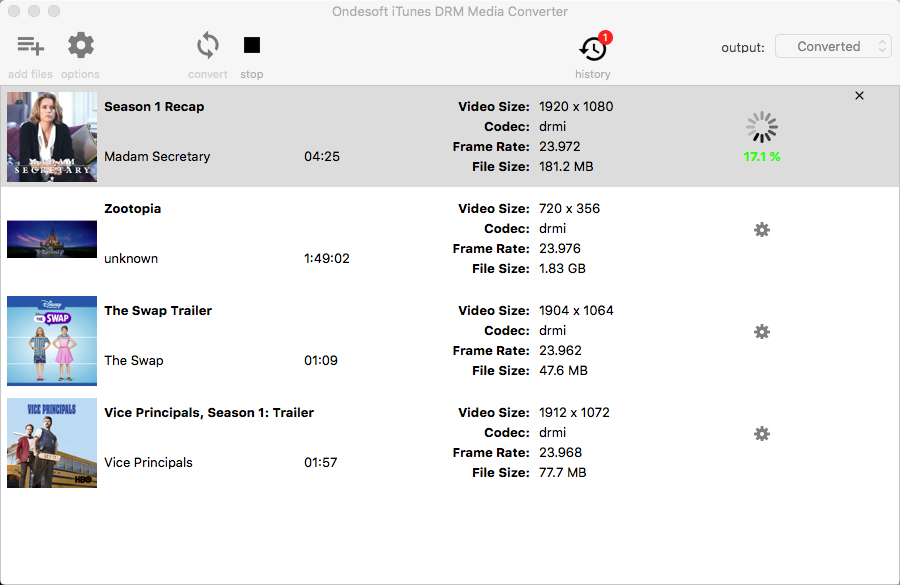 Conclusion
When I sorted my library by file kind, I had 124 DRM-protected songs. Using the old method of paying $.30 per song, it would cost $37.20 to update my library. The savings will indubitably be much greater for users with large DRM-protected libraries. Ultimately, it's difficult to accept the concept of re-buying your music to remove the DRM, but using this tutorial, you can now do so cost-effectively. Choose the best drm removal software for you.